12" Guillotine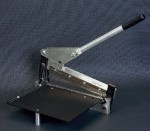 The 12" Guillotine for Trophy Metals, Jewellers Brass and Plastics. This guillotine permits trimming of harder materials, in a more compact and lighter shear.
Swarf Extractor Unit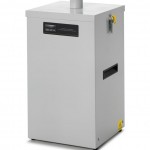 These swarf extraction units have been developed for the safe and effective removal of swarf and smaller particulates during processes such as routing, mechanical engraving, grinding and lathing. The pumps used in the swarf extractor are brushless and designed for continuous running with minimum 30,000 hours use before servicing. They generate high vacuums and are quiet in operation. The large capacity bag filter has a very high efficiency and can easily be emptied and re-used.