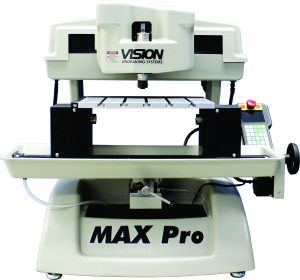 The MAX Pro Engraver was developed to be Vision's most versatile machine to date, allowing for engraving of flat, deep, round or odd-shaped items in one compact, easy-to-use machine. The system is frequently used as a glass engraving machine, but its automatic surface-sensing feature allows for flat and curved surface engraving on a wide range of other materials as well, such as plastic, brass, coated and non-coated metals, artificial stone, crystal, and more. The system includes Vision's Auto Laser Layout feature, which sends the engraving area and position directly to the software without measuring
The MAX Pro system offers:
• Interchangeable, self-centering vise with tilt for engraving deep, long or odd shaped items

• Built-in cylindrical feature for engraving round items

• Self-contained, recirculating water pump for use as a glass engraving machine

• Red laser pointer for easy job set-ups

• Limited 2-year warranty
Cylindrical engraving up to a large 12″ (304.8mm) Length 152.4mm diameter
Max Pro self centering vice for engraving small and odd shaped jewellery and gift pieces
RING ATTACHMENT
This fixture allows you to engrave around the inside and outside of most rings or other cylindrical objects.(Compatible with the MAX and Max Pro.)
Min. Dia: 5/8″ Max Dia: 4″
MULTI MAT
Multi Mat eliminates the need for double stick tape, clamps, vacuum tables, and most other hold down methods on many engravable items. Multi Mat will hold most types of engraving stock, including brass, aluminum, plastic, and acrylic. Just press it into place on any size engraving table and you're ready to go, and because Multi Mat is produced with a special rubber coating on both sides, it cleans easily for extended use.
WEDGE CLAMP
Simply slide the clamp onto the T-slot table surface and position it over the edge of the engraving stock. The downward clamping force eliminates bowing and problems. This clamp can be used with material up to 1/4" thick. Fits all Vision T-slot tables.
QUICK-LOCK VISE
This vise is specifically designed for T-slot table users. Its "cam" type locking device allows for quick changing of parts. Supplied with a removable front clamping plate which allows for holding thicker items. Fits all Vision T-slot tables.
VERSA VISE II
The Versa Vise can be used alone or in conjunction with other fixtures to hold a variety of shapes and sizes.
DIAMOND DRAG ADAPTER
The DIAMOND DRAG ADAPTER screws onto the end of almost any spindle and allows simple & solid mounting for diamond scratch engraving. Spindle bearing strain is totally eliminated using this devices
PEN & MEDALLION FIXTURE
This is a double-sided fixture that when turned in one direction accommodates a pen and when turned in the other direction accommodates a medallion, seal, or other circular item. With a space for the "eye" of the medallion, this fixture is usable with the Versa Vise or Quick-Lock vise. Fits all Vision T-slot tables.
Applications: Glass Engraving, Jewellery, Cylindrical Engraving, Sign making, Jewellery, Medals, Pens, Trophy & Plaques, Parts Marking, Badge Engraving, ADA Braille Signs, Wood, Plastic, Metal, Tag Engraving, Control Panels and more!
Finance available on this machine – http://www.ukengravingservices.co.uk/finance