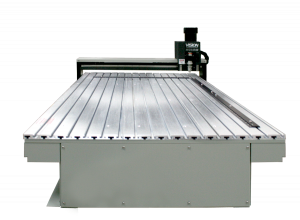 The 2448 Engraver is ideal for light to heavy-duty applications ranging from small jobs to those requiring a large engraving area. Great for a variety of jobs such as volume production work, large signage, industrial marking, and multiple plate jobs. With the ability to engrave an entire sheet of engravers' plastic, the Vision 2448 is the ultimate productivity tool for your shop. The 2448 commercial engraver is also ideal for marking industrial items such as tools, cylinders, pipes, gauges and more.
The 2448 Engraver:
     • 24″ x 48″ Large work area
• Aluminum T-slot table to accommodate various work-holding fixtures

• Engraves items up to 1.875" thick (3.5" thick or more w/ custom risers)

• Uses 11/64" or 1/4" top-loading spindle (collet optional)

• Optional Automatic Raster™ Braille Inserter for automatic Braille bead insertion

     • A limited 2-year warranty
RISER BLOCKS TO RAISE THE GANTRY
These riser blocks are designed to give your Vision-manufactured engraving table an additional 1 5/8″ of clearance. The unit is sold as a kit and is easily user installed.
TABLE STANDS
Heavy duty steel construction, painted to match the Vision tables.
SK HIGH-FREQUENCY 50,000 RPM ENGRAVING SPINDLE
This high-frequency spindle is perfect for deep engraving into metals! The high RPM allows cutters to stay sharp much longer for increased production, and allows for much faster speed in engraving. Includes control box; no nose cone. Available as an option for our 16 Series and 24 Series Engravers, as well as our 25 Series Routers (with engraving head option).
MULTI MAT
Multi Mat eliminates the need for double stick tape, clamps, vacuum tables, and most other hold down methods on many engravable items. Multi Mat will hold most types of engraving stock, including brass, aluminum, plastic, and acrylic. Just press it into place on any size engraving table and you're ready to go, and because Multi Mat is produced with a special rubber coating on both sides, it cleans easily for extended use.
WEDGE CLAMP
Simply slide the clamp onto the T-slot table surface and position it over the edge of the engraving stock. The downward clamping force eliminates bowing and problems. This clamp can be used with material up to 1/4" thick. Fits all Vision T-slot tables.
QUICK-LOCK VISE
This vise is specifically designed for T-slot table users. Its "cam" type locking device allows for quick changing of parts. Supplied with a removable front clamping plate which allows for holding thicker items. Fits all Vision T-slot tables.
VERSA VISE II
The Versa Vise can be used alone or in conjunction with other fixtures to hold a variety of shapes and sizes.
DIAMOND DRAG ADAPTER
The DIAMOND DRAG ADAPTER screws onto the end of almost any spindle and allows simple & solid mounting for diamond scratch engraving. Spindle bearing strain is totally eliminated using this devices
PEN & MEDALLION FIXTURE
This is a double-sided fixture that when turned in one direction accommodates a pen and when turned in the other direction accommodates a medallion, seal, or other circular item. With a space for the "eye" of the medallion, this fixture is usable with the Versa Vise or Quick-Lock vise. Fits all Vision T-slot tables.
Finance is available on this machine – http://www.ukengravingservices.co.uk/finance