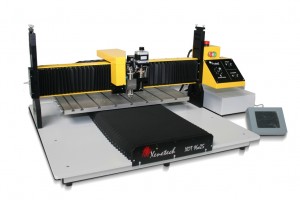 The Xenetech Viper 1625 has a 16" by 25"  (406.4mm by 635mm) engraving area with high precision and rigidity.  The 1625 will deep engrave, cut, diamond drag and burnish into various metals – aluminum, brass, steel, etc. and  into plastics, wood, and glass for signs, nametags, trophies, awards, small jewellery items, tools, industrial parts, identification plates, traffolyte engraving and control panels.
With its tall clearance of 7.188" (182.5mm) and the optional engraving cylindrical attachment, the 1625 can also engrave cylindrical pieces.  It is our leading seller to professional engraving shops, where engraving a broad line of items is important. The system contains Xenetech's automatic surface sensing capability that allows for flat, curved, and cylindrial surfaces.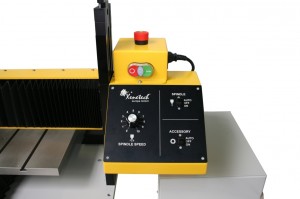 The Viper Electronics connect via Ethernet connection. This type of connection will allow you to download jobs from multiple computers on your local network straight to the machine. The jobs can be easily downloaded to a job queue and recalled by the engraving system operator. This feature alone can make your work orders flow more efficiently. You can also recall previously engraved jobs from the touch screen and you can be away from the machine but still check via the network where the machine is engraved up to.Job preview at the Viper Color Touch screen allows the end user to check their job before engraving.Up to 4 offsets can be saved at the Touch screen. This allows you to save and load offsets for vises or special fixtures. The easy jogging and micro-jogging features on the touch screen allow you to set permanent or temporary home positions accurately and efficiently.
Compatible with Windows XP (sp3), Vista and Windows 7
Download Spec Sheet

Finance and Rental is available on this machine – http://www.ukengravingservices.co.uk/finance-rentals